"Life safety" refers to the design and operating features of a building that provide its occupants a reasonable level of safety during fires and other emergencies.  It includes design features such as building construction type, compartmentation, fire alarms, fire protection (suppression) systems, exits, fire barriers, and more.  It also includes operational elements such as fire drills, training, emergency plans, and maintenance, inspection, and testing programs.
Life safety features may not always be highly visible within your building.  For example, consider this corridor from a typical building: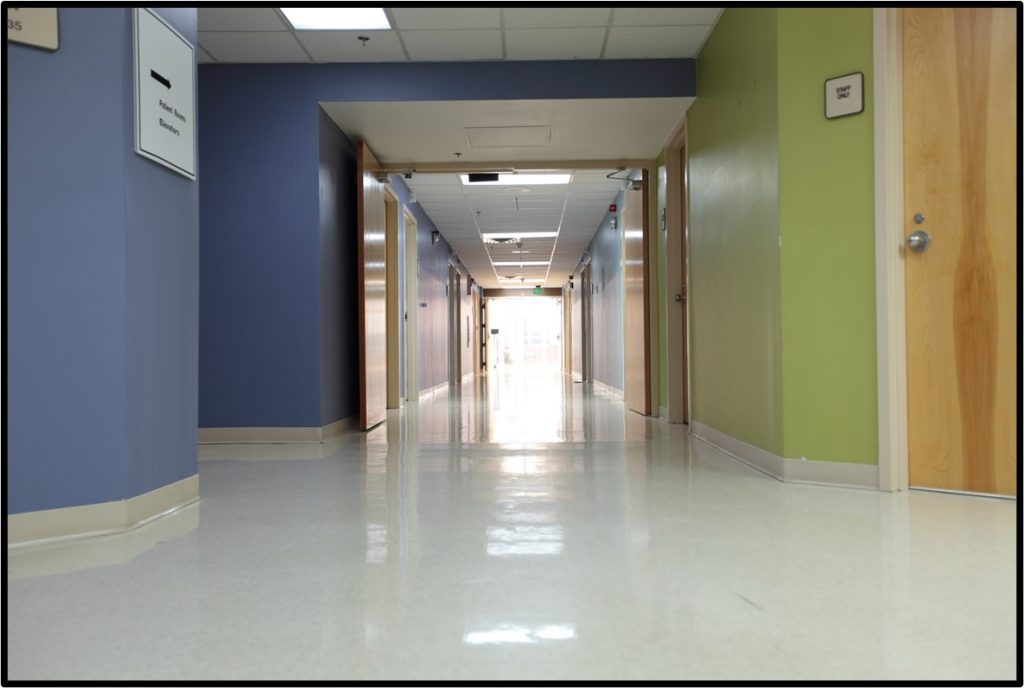 We might not think about the life safety features incorporated into this rather plain corridor.  However, it incorporates many features of life safety, including:
Lighting (and emergency lighting)
Width of corridor
Construction of the corridor walls and ceiling
Finishes (e.g., floor tile, paint)
Ceiling construction (and smoke resistance)
Door construction
Door latching hardware
Gaps between doors and floors
Fire extinguishers
Fire suppression system (sprinklers)
Fire alarm system (including pull stations, audible/visual alarming devices)
Smoke detectors
Exit signs
All of these elements work together to provide layers of protection for its occupants.
Which regulations address life safety?
Life safety is addressed in a number of regulations, codes, and consensus standards.  For example, OSHA addresses life safety concepts in Subpart E of 29 Code of Federal Regulations 1910 (including 1910.33 thru 1910.37).  OSHA's life safety standards are limited in scope and mostly focus on exit routes, lighting, and marking of exits, but they include references to additional non-OHSA standards as an alternative means of compliance.  In 29 CFR 1910.35, OSHA "will deem an employer demonstrating compliance with the exit-route provisions of National Fire Protection Association 101, Life Safety Code, 2009 edition, or the exit-route provisions of the International Fire Code, 2009 edition, to be in compliance with the corresponding requirements in 1910.34, 1910.36, and 1910.37."
Life safety is also addressed in the International Building Code (IBC) and International Fire Code (IFC), which are often adopted by local authorities having jurisdiction (such as fire marshals and building code officials).  The most prominent consensus standard for life safety is the National Fire Protection Association 101: Life Safety Code.  Some fire marshals and other authorities having jurisdiction have adopted the Life Safety Code as a jurisdictional code.
Are there different standards for new vs old buildings?
Regardless of your building age, you should periodically assess your life safety systems and features and ensure they meet OSHA and local requirements.  The OSHA life safety standards apply to all buildings, new or existing.  IBC requirements generally apply to new buildings and renovations to existing buildings.  IFC and Life Safety Code requirements generally apply to both new and existing buildings; however, only select provisions would apply depending on whether the building is new or existing construction.
What's a suggested approach for assessing life safety in my building?
When undertaking a life safety assessment of your building, consider this approach based on suggested procedure in the Life Safety Code:
Determine the occupancy (and sub-occupancy) classification.  Life safety requirements vary based on the building's occupancy classification.  Some occupancies have "sub-occupancy" classifications with additional life safety requirements.  Some buildings may be classified as "mixed" occupancies; such buildings must comply with the most stringent provisions of the occupancies involved.
Determine if the building is new or existing. Life safety requirements for new buildings are generally more stringent than those for existing buildings.
Determine the occupant load. The occupant load is the total number of persons that occupy a building or portion thereof.  The occupant load will impact the number of required exits, width of exit access, and other provisions.
Determine the hazard of contents. "Hazard of contents" are classified as low, ordinary, or high.  Life safety provisions are generally more stringent for occupancies with high hazard contents.
Apply the occupancy chapter requirements to the building. The Life Safety Code has 24 occupancy chapters, including chapters for business, industrial, storage, and assembly. 
Determine if the building is a special structure. Special structures include open structures and high-rise buildings, among others.  There may be additional requirements for special structures.
In Part 2 of this article, we will present a summary of some of the life safety requirements for business and industrial occupancies.  We will cover number of exits, travel distances to exits, dead end corridors, corridor widths, exit signs, sprinkler protection, fire extinguishers, and fire alarm systems. 
If you have questions about a life safety issue, please reach out to Leo Old, PE, CIH, CSP, CHFM, FASHE, EnSafe Fire Protection Engineer.